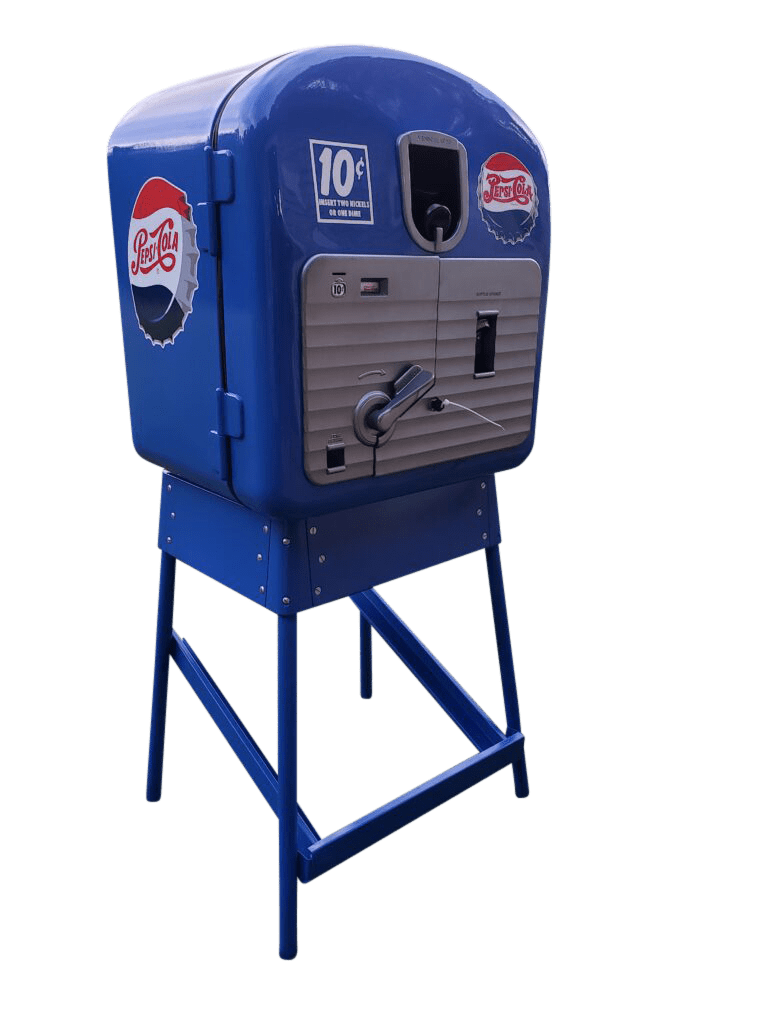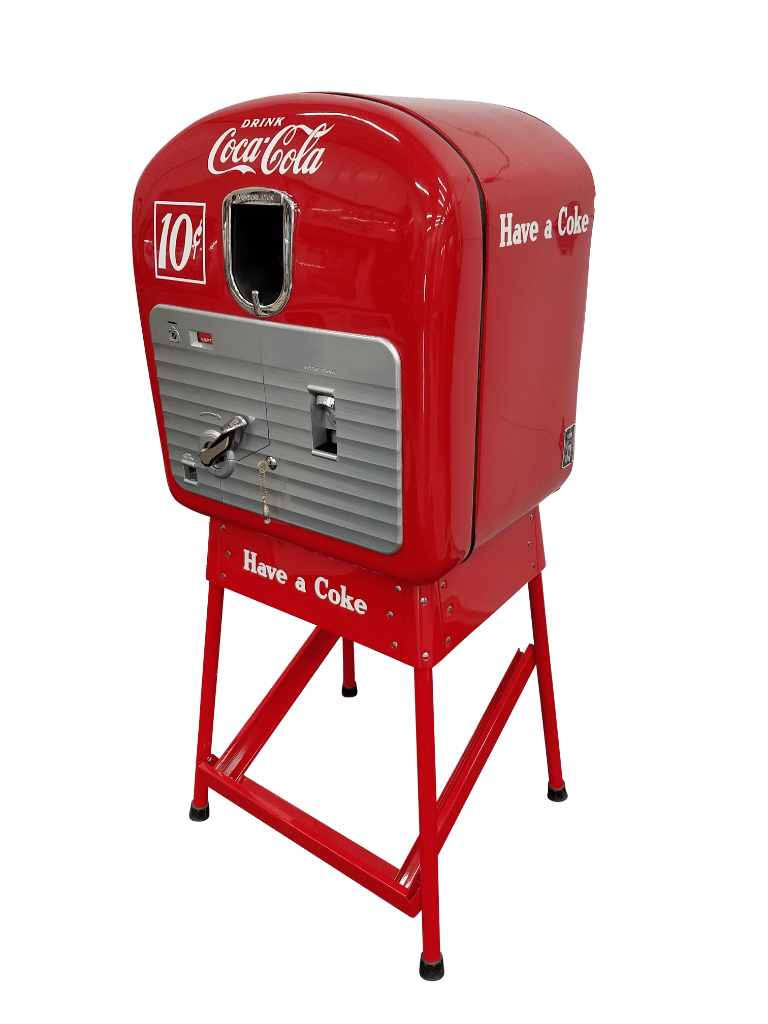 About the VMC 27
The Vendorlator 27 is one of the earliest VMC models ever produced for small stores. It's a small machine that was meant to be placed on top of countertops or hung. It was made from 1948 until 1955, gaining massive success almost immediately. There's no doubt that the V-27 or "mailbox" or the "tabletop" as some people used to call it was an appealing model for small shops and even offices. Weighing slightly over 100 pounds, the V-27 vends 27 6 and ½ oz bottles, and precools 10 of them. It can also vend 8oz bottles. At the time, you could also find stands it could be placed on top of them while allowing sellers to store coke crates..
You can buy parts for the VMC 27 here
Features
The Vendorlator 27 is one of the smallest (if not the smallest) coke vending machines made, measuring only 27″ high, 24″ wide, and 19″ deep. They were made for small offices and shops that couldn't fit any of the bigger models of the time.
Not to be confused with the VMC-27A model.
This small, but powerful 1/10hp unit allowed Vendorlator to open another factory in Piqua, Ohio in April of 1949 thanks to its popularity.
It had a 27-bottle drum, thus the name VMC 27. Every spot on the drum allowed two bottles, except for the one that was vending at the moment of filling it.
The machine had a noticeably round design that was characteristic of the time it was made. The exterior of the VMC-27 was made out of aluminum and it also had a chromed grill, crank, and vending chute lining. There were some models made out of steel for Pepsi and other cola brands, but they weren't impervious to rust, unlike their aluminum counterparts.
Still, the ones made out of aluminum can usually be found with many dents, especially around the vending chute.
Shortly after production, stands appeared. There were several versions, but the most common ones were one made out of aluminum pipes, and one made out of wood that was created by Kay Products.
There were also coin changer kits that allowed the machine to return a nickel when a dime was introduced.
Today it can vend a 6 oz bottle or a mini can.

Vendo 27 Specs:
● Vends: 27 6.5oz, but it can also vend 8oz bottles.
Pre-cools: 10 bottles.
Operation: Manual
Size: 27″ high, 24″ wide, and 19″ deep.


Refrigeration:
Tecumseh cooling system, 1/10 HP.


Serial Number Information:
The serial plates of this machine could be found on the lower, right corner of the left side of the machine.
The date of manufacture can be established by cross-referencing the serial number ID plate of the cooling system and the ID number of the compressor.
The first item was the month the machine was manufactured on. They were represented by letters from A to M, skipping over letters I. "A" means January, "B" means February, "C" means march, and so on.
Then came the year of manufacture, which was represented by a number. And finally a 5-digit serial number.


Popularity and Collectibility
The VMC-27 was one of the most famous VMC-produced vending machines of its time. It allowed VMC to grow as a company and to keep producing outstanding quality vending machines for years after. Even though there were many produced during its 7-year run, not many of these machines are available today.