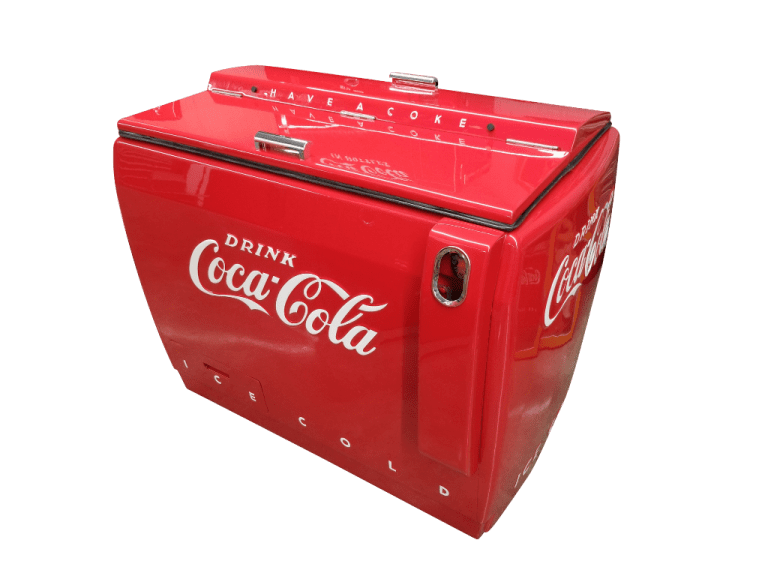 About the Cavalier CMD 12 Cooler Information
The Cavalier CMD 12 is a line of dry horizontal coolers that ran from 1936 until the late 1960s. However, the CMD models were introduced after 1950, when Cavalier discontinued the so-called "wet coolers", and moved one to produce "dry coolers". There were four different types of CMD coolers (Cavalier Master Dry) – the regular CMD, the CMD-B, CMD-C, and CMD-D. There were a few changes between the different versions. There were two main versions because, during these years, Coca-Cola underwent some changes regarding its image and marketing strategies. There was a solid red version that existed before 1957 and a red and white version after that year.

Features
The CMD 12 has a capacity for 288 6 ½ oz bottles. It's got the number 12 in its name because it can store 12 cases of Coke.
This machine was very powerful thanks to its reliable Tecumseh cooling system, which was common in these machines after 1949.
The CMD-B 12 and CMD-C were painted red until 1957 when Coca-Cola changed all its machines to a white and red color scheme.
It's worth noting that the CMD-B versions were produced between 1954 and 1955, the CMD-C versions from 1955 until 1959, and the CMD-D versions from 1956 until 1966.
 
Cavalier CMD 12 Specs:
Stores: 288 6 ½ oz bottles.
Size: 45 ⅛" high, 72 ½" wide, and 28 ½" deep.
Weight: 325 lbs.
Refrigeration Specs:  Tecumseh cooling system.



The CMD 12 cooler, also known as the CD12 is a timeless cooler design that had and has many uses. These are not hard to find since the CMD models were produced (with all the variations included) for almost 15 years.